Important information
Safety Information:
FOR EXTRENAL USE ONLY SOTRE IN COOL AND DRY PLACE AWAY FROM DIRECT SUNLIGHT
Ingredients:
Water, Sodium lauroylsarcosinate, Caprylyl/caprylglucoside, CAPB (Cocamidopropyl Betaine), Sodium Methyl CocoylTaurate, Aloevera Extract, Sodium Cocoyl Apple Amino Acids, Niacinamide(vitamin B3), berberis aquifolium, Glycerine, Perfume , Carbomer, Calendula extract, Rosemary Extract (Rosmarinus Officinalis), Trehalose, Turmeric extract (curcuma longa), Bacopa monnieri extract(Brahmi), Fenugreek seed extract(methi), Citric Acid, propylene glycol, DMDM Hydantoin (and) Methylchloroisothiazolinone (and) Methyl isothiazolinone, EDTA (Ethylene Diamine Tetra Acetic Acid)
Directions:
Pour a small quantity and apply it on a damp face, Massages for up to 2-3 minutes and wash it off in cold water thoroughly, Follow-up for twice a day for prompt results.
Product Description
U ESSENTIALS Advanced Skin Lightening Purifying Face Wash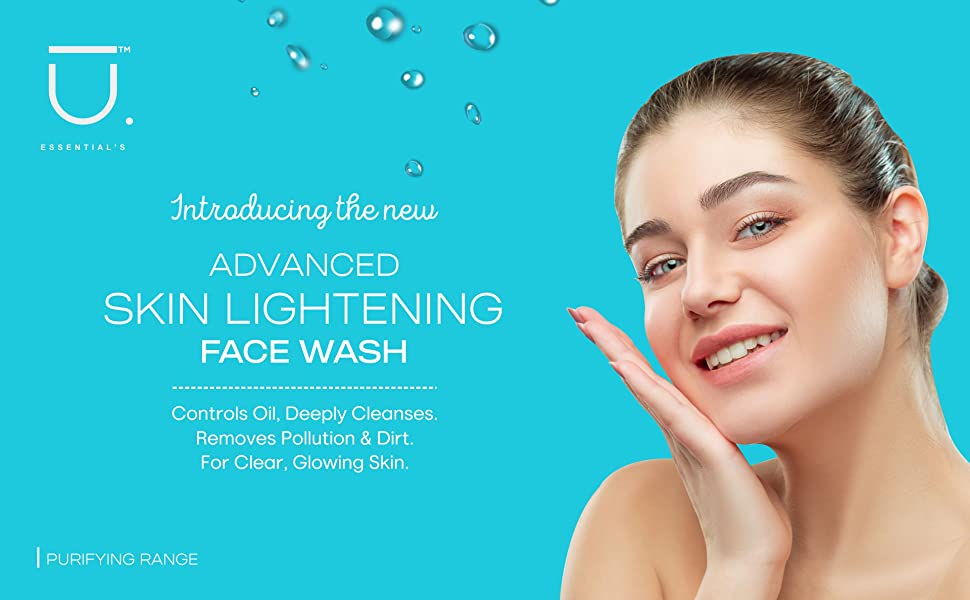 U Essentials Advanced Skin Lightening Face Wash is uniquely personalized and formulated with the most advanced whitening ingredients for the act of skin lightening, dirt-free clear skin, oil and pimple-free skin, and all other skin problems. Get PURIFYING range of products that are dedicatedly made to cleanse your skin and scalp.
Benefits
Helps in deep cleansing and lightening the spots.

Purifies dirt, dull skin and tans.

Takes action on fading out age spots, pimples and patches.

Protects skin against free radicals and ensures a healthy and glowing skin.

Contains no toxic chemicals / ingredients and safe for all skin types.

Get the benefits of PURIFYING range of products.
Advance Purifying Facewash
Made out of Organic and Natural Ingredients
Calendula extract
It is an extracted oil from marigold flowers(Calendula officinalis) that widely helps fights acne-prone skin.
Rosemary Extract (Rosmarinus Officinalis)
This extract is predominantly added to slow down the action of aging on the skin and heal acne and infections. It does these due to the following essential oils: monoterpene hydrocarbons, camphene, limonene, camphor, borneol, cineole, linalool, and verbal.
Niacinamide(vitamin B3)
It's a combination of Glycolic acid and Glycerine that assists in removing dirt and impurities in the skin and increases skin complexion to a great extent.
Barberry extract (Berberis aquifolium):
Extracted from the blue berries of the Berberis Aquifolium plant. Has a unique compound in it, namely Berberine. This serves as an antioxidant and heals acne and pimple pigmentation problems.
Bacopa monnieri extracts (Brahmi)
It is derived from the herb Bacopa monnieri, and works to cleanse the skin and heals skin related issues.
Turmeric extract (Curcuma longa) and Fenugreek seed extract (methi)
The ingredients are spices used worldwide. The extract is done by soaking them overnight and blending them into a fine paste, and both act as a super skin cleanser. The Turmeric extract(Curcuma longa) also exhibits antimicrobial antioxidant properties and heals dermatological illness
Step : 1
Take a small amount of the
Purifying Facewash on the palm.
Step : 2
Gently massage for 2-3 minutes over wet face
in a circular motion.
Step : 3
Rinse thoroughly
and pat dry.