U ESSENTIALS Divine Sleep Melatonin Oral Spray For Deep, Calm and Restful Sleep with Cranberry Flavor 30ML
Divine Sleep Melatonin Oral Spray is specially formulated to promote calming and restful effects. Primarily composed of melatonin, it is a sleep aid designed to readjust one's circadian rhythm or internal clock. The product is designed to work efficiently without side effects such as grogginess. It has an appetizing cranberry flavor.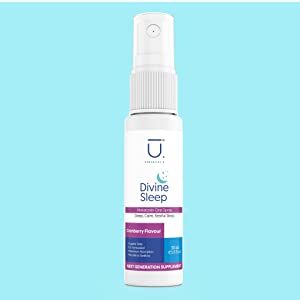 Instruction for use
Shake prior to use, Take 4 sprays at a time in normal condition. If you didn't get proper result in 4 sprays then take 8 sprays at a time or as directed by the dietician.
Warning : Do Not Exceed the recommended daily dose of 8 Sprays in a 24 hours Period. It should not be used as a substitute for a varied and well balanced diet. If you are pregnant, Nursing, taking any medication have a medical condition, please concern your health practitioner before taking any dietary supplement.